Attention: Picture All rights Reserved. DO NOT use the pictures of OUR product for any commercial purpose.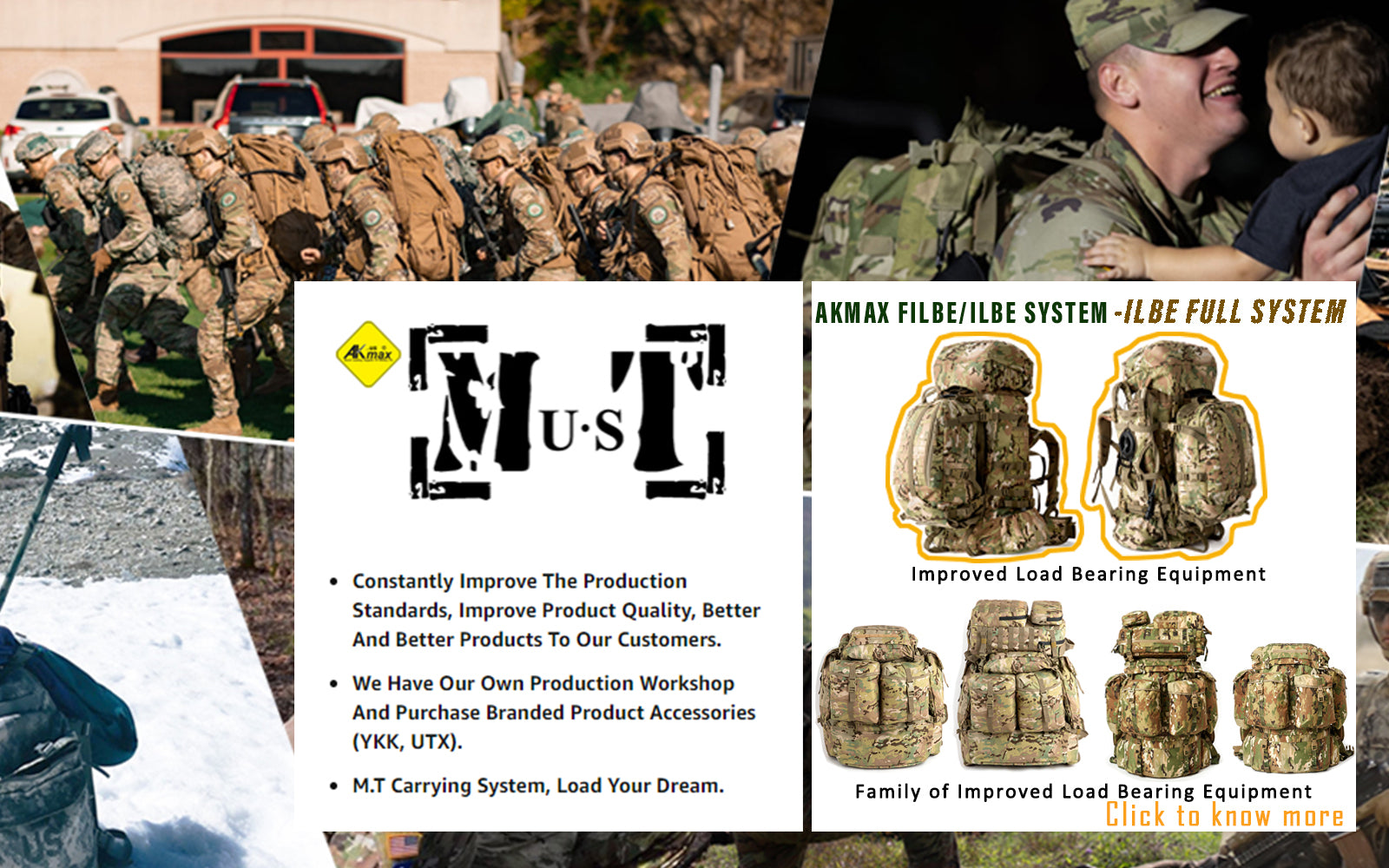 Akmax ILBE Pack Military Carrying System can suit the loading from Assault Load, Approach March Load and Existence Load. It improved upon durability, comfort, system complexity, system weight sustainability, and greater integration with the Outer Tactical Vest, Modular Tactical Vest, and Scalable Plate Carrier. The Best Choice for Camping Hunting, Hiking, Bug Out, and some other Outdoor Behaviors.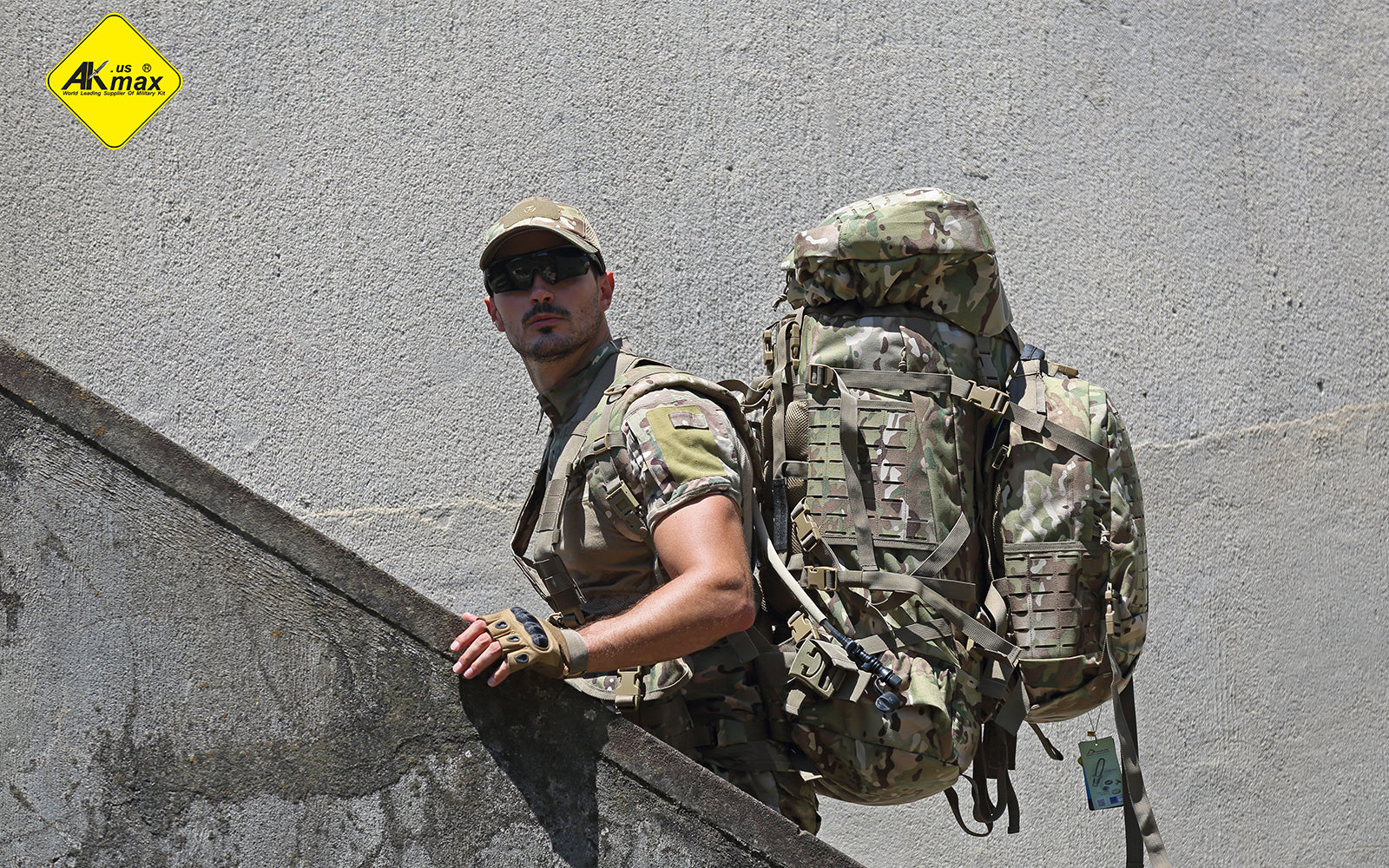 Instead of Military MOLLE Webbing Belt PALS(Pouch Attachment Ladder System), Akmax ILBE Rucksack system uses Double Layers laser cutting PALS, which make whole Multicam camouflage pattern become more disguised. Meanwhile, double stitched 1000D oxford fabric makes pouches attachment strong and stable.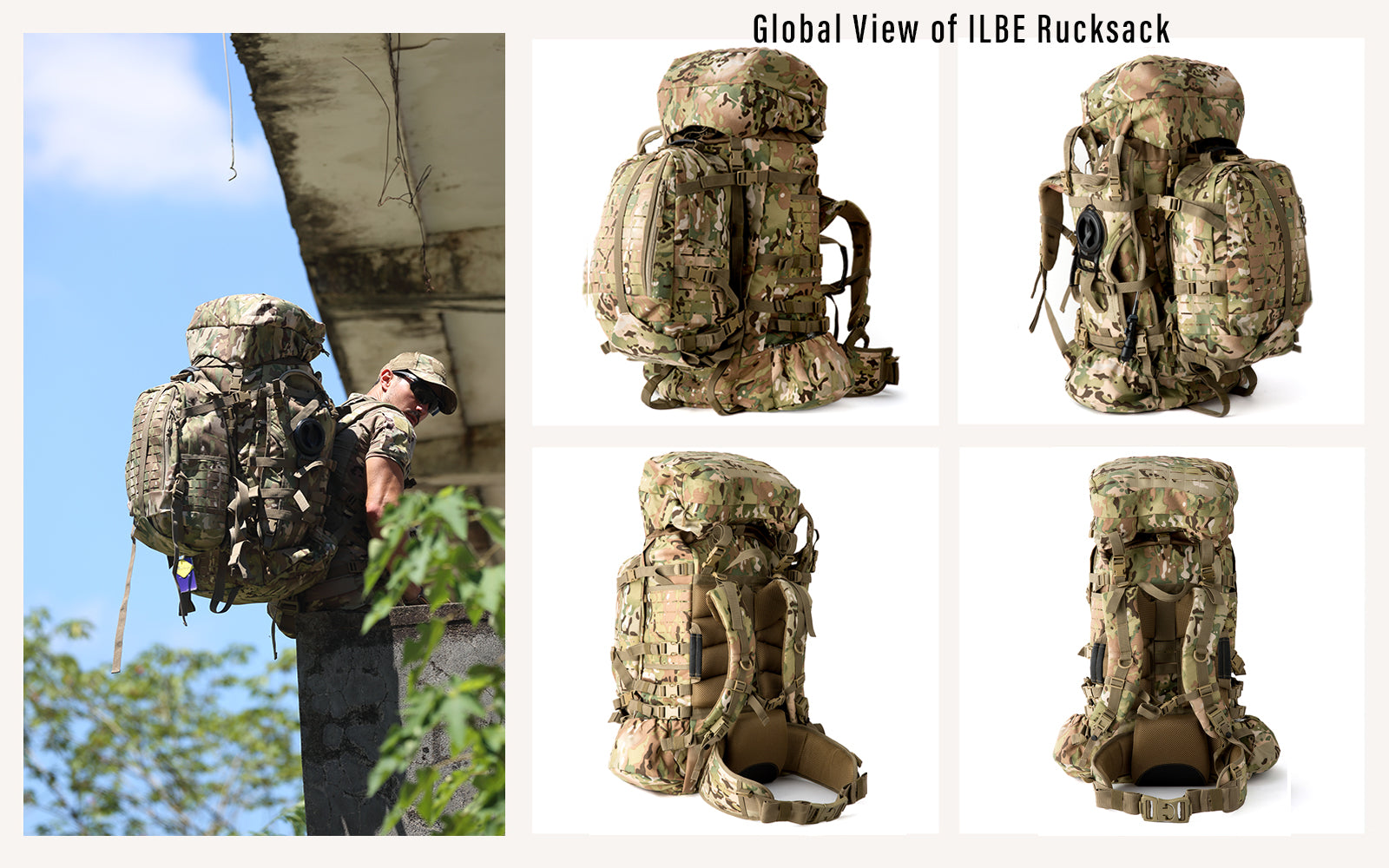 Akmax new Gen ILBE Rucksack system's Main Pack has Dual-pull zippers on both sides run top to bottom Straps on lower part of pack to attach sleeping pad roll Collapsible "floor shelf"/divider in mid pack. Military ILBE Main Pack has two side pockets with associated compression straps for irregularly shaped gear such as Skis, Snowshoes, or Shoulder-launched Multipurpose Assault Equipment.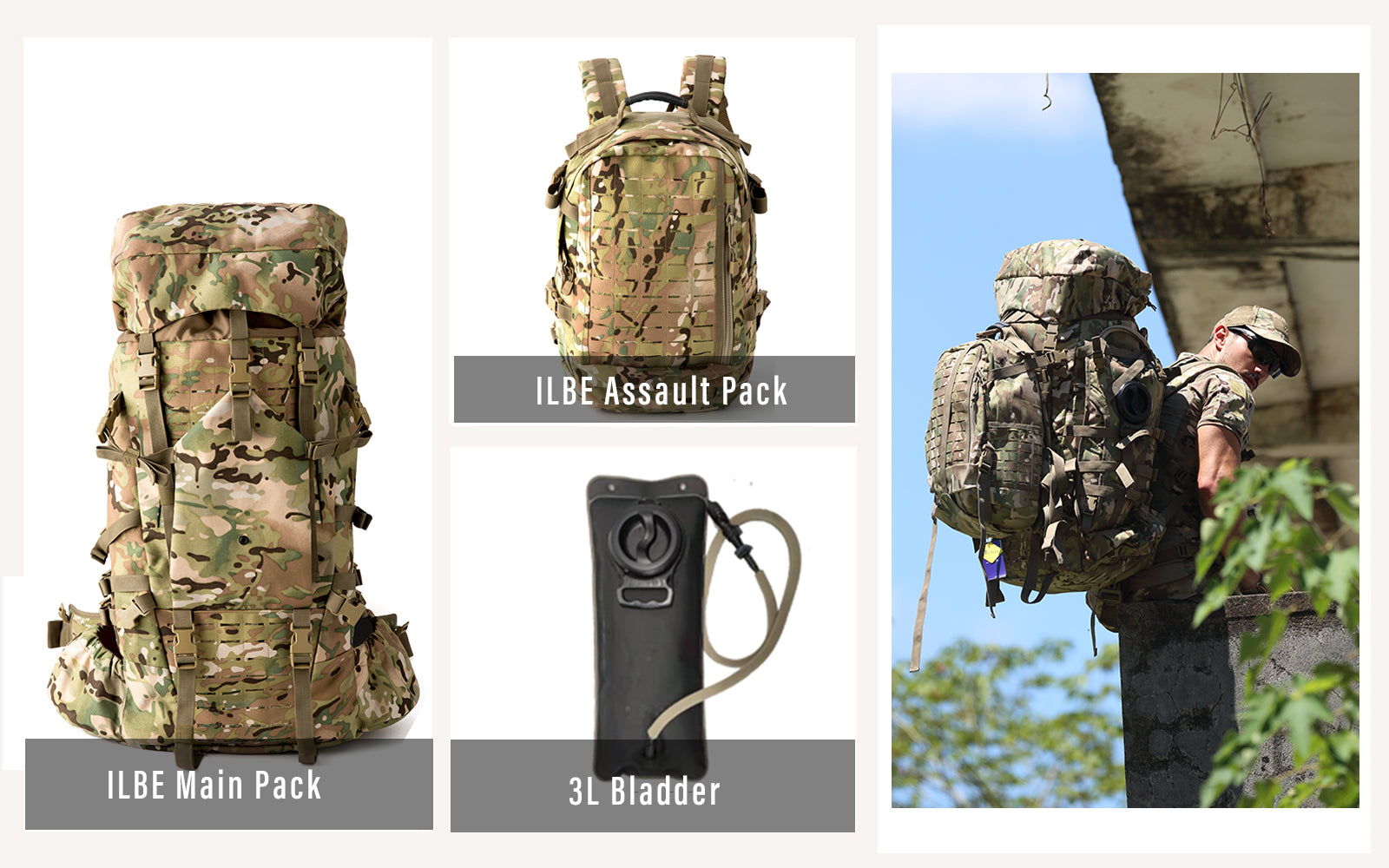 The standard measurements for the ILBE Assault Pack are approximately 6" deep, 12" wide, and 18" tall for main compartment and the outer pocket is 2" deep, 10" wide and 14" high. Inside the main compartment is a pocket designed to hold a hydration bladder. The hydration tube can be fed out through the top of the pack on either the left or right side.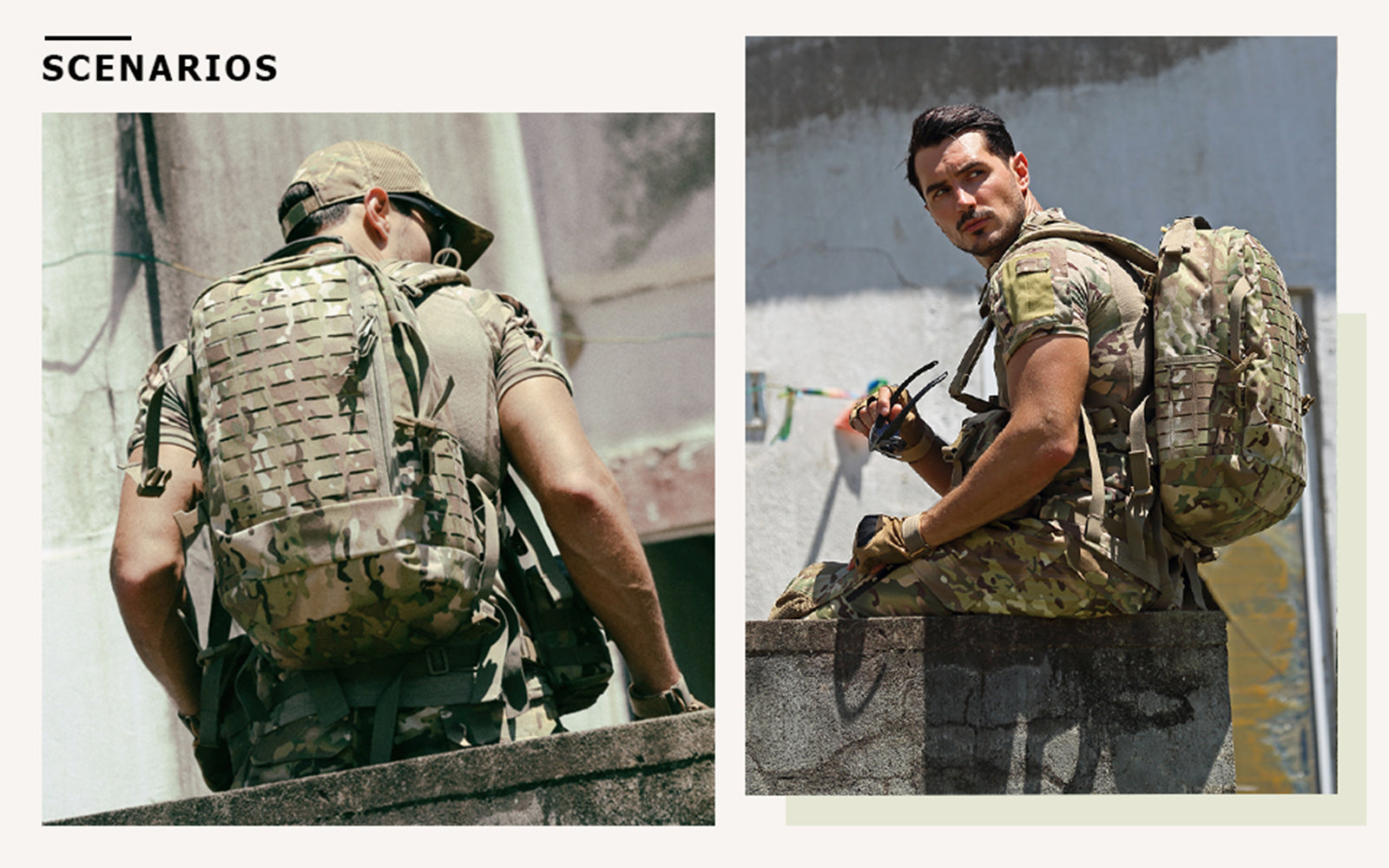 Akmax ILBE Lid (or dust cover) is a component of the Improved Load Bearing Equipment (ILBE) system and was designed to protect all of the gear kept inside the back. Buckles secure it to the main pack. It has a zippered pouch and MOLLE webbing on the top.
Akmax ILBE Radio Pouch is a component of the Improved Load Bearing Equipment (ILBE) system and was designed to carry the radio in the Multicam Main Pack. It is designed to attach to the inside of the pack, via either straps or buckles. The Radio Pouch can also be used for other items as well. It's great for camping, hunting, hiking, or just about any other outdoor activities you would need a pouch for.